Who once came to Binh Dinh will always remember Champa towers, they are so beautiful to ecstatic by the architecture untill now also contains a lot of mystery, Archeologists and art researchers have evaluated Cham clusters in Binh Dinh that have reached to the peak of architectural and sculptural art, and harmonized the Champa and Khmer artistic styles that make them different from Cham towers populations before and after them. With 14 remaining towers, Binh Dinh is the second province after Quang Ngau possesses many Cham towers in our country.
Binh Dinh, the homeland of national hero Quang Trung- Nguyen Hue, over 200 years went by, but the mark of Tay Son movement, Tay Son Dynasty have been still remained here with the relics such as Tay Son Temple, Quang Trung Museum, The Emperor Palace.
Besides that, the intangible culture in Binh Dinh is also extremely rich such as festivals, boi singing, Tay Son battle drum music, the fork art of bai choi singing, ba trao singing of coastal residents… Traditional and folk festivals such as:
Dong Da festival, Cau Ngu (Whale worship) festival, worship "South sea god" festival, Tay Son festival… and many humanistic festival of 3 mountainous ethnic group: Bana, Cham, H're living on Binh Dinh land that created a cutural idenity of this land. These are special spiritual food not only for Binh Dinh people, but also specialities to introduce tourists in our country and abroad.
Food culture: Binh Dinh with much famous cuisine has become a special cuture can not be mentioned: patty wrapped in pinnate leaves, fermented pork (of Huyen market), Bau Da wine- drink is listed in the national wine.
BINH DINH- LAND OF POETRY
Calling Binh Dinh is the land of literature and poetry because this place has nutured poetic souls, great poets in literature and Vietnamese poetry.
Those were Dao Duy Tu with sad poetry, Dao Tan- forefather of Boi singing, an excellent poet, and Van Son land with 5 father and sons were good at poetry. Mai Xuan Thuong with poem from his heart before beheaded, Tang Bat Ho went abroad, Nguyen Ba Huan was sad cause of politic, Nguyen Trong Tri with deep soul in moonlight, Dao Phan Duan was steady mind, Ho Si Tao sacrified under meaningful flag…
In the new poetry, this land produced talented poets. Those were Xuan Dieu with lonely heart, Han Mac Tu with poems of falling flowers in the garden, Che Lan Vien with falling stars throughout Champa's eyes, and Quach Tan with the solemnity and the sound of Duong Thi wind on the edge of bamboo, spring in Binh Dinh homeland, Yen Lan with the call of boat in moonlight.
In this place, poetry has been absorbed into blood, from the high educated to the peasants. That makes a personal identity of Binh Dinh in poetry of Viet Nam.
BINH DINH- LAND OF TUONG (BOI SINGING)
Tuong art, the precious art of nation, it has developed on the land of Binh Dinh, asscociated with the most famous Tuong writter. Despite of the historical fluctuations, through the war, Binh Dinh people still keep their own art and resist cultural invasions from abroad to make Binh Dinh still a point of talent convergence of Tuong art.
The art history of Tuong Binh Dinh developed with the name of Dao Duy Tu (now Dao Duy Tu temple in West Hoai Thanh commune, Hoai Nhon district, from National route 1A 2km) and Dao Tan.
Dao Duy Tu is called the first forefather of Boi singing in Binh Dinh. He was gooad at literature and martial arts, was ordained Military General. He was the first son of a famous female singer at Thang Long capital, so he was also good at poetry and music. Studying well, high talented but he could not attend examination because his mother was a singer who was in class "singer has no position in society", so he left to the South to examine his talent and be used by Lord Nguyen. Dao Duy Tu set up Tuong- Boi singing and organized singing groups. With good works of Tuong still remained till now: San Hau (Ong Dinh, Dong Kim Lan, Khuong Ninh Ta), Son Ha Xa Tac…
And in the mid of Nguyen Dynasty, Binh Dinh produced a playwright about Tuong (Boi singing), that was Dao Tan in Vinh Thanh village, Phuoc Loc commune, Tuy Phuoc district. He was born in 1845, graduated from Dinh Mao (year of Cat 1867) at Binh Dinh exam school. He was a talented artist, good at Boi singing skills. Dao Tan established Hoc Bo Dinh Vinh Thanh (Tuy Phuoc district, Binh Dinh now). Because he studied Boi singing in many regions so Hoc Bo Dinh Vinh Thanh became the highest peak in training school of Boi singing at that time. From Hoc Bo Dinh Vinh Thanh, many famous names in Boi singing career were born, such as: Bat Phan, Cuu Khi, Bau Thom, Bau Chang… then, Boi singing movement developed throughout Binh Dinh land and it has become a special culture of this land.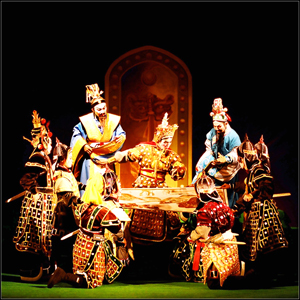 Over hundreds of years, Boi singing has become more and more popular in spiritual life of Binh Dinh people. Not only that, the exchange, combination of Tuong art and Binh Dinh martial arts has brought Tuong Binh Dinh to a newer and more diffrerent art than Tuong groups of other provinces.
Now in Binh Dinh, besides Tuong Dao Tan Theater, there are dozen of Boi singing groups in countryside. Those amateur Boi singing groups are often invited to perform in countryside. Actors are men and women peasants, never be taught in an official class but they are taught by their previous generations and passionate of Boi singing art. After performing night at the entrance of village or in the mound, "Quan Cong", "Lu Bo", "Dieu Thuyen"… returned to buffaloes, ploughs, fields and gardens, but not because of that they give up their passion for Boi singing.
BINH DINH- LAND OF MARITIAL ARTS
Binh Dinh is the land of convergence, inheritance and promoting the special essences of Viet Nam traditional martial arts. From Tay Son brothers uprising, under leadership of cloth hero, Quang Trung- Nguyen Hue, Binh Dinh martial arts has a complete development and from here, Binh Dinh- Tay Son linked and came to history as a pride and folk song, which have begun to be passed on by people to prove the peculiarity of the people in martial arts land.
"Let's come to Binh Dinh to see
The women perform martial arts"